Laikipia is a vast expanse of wild and rugged country in the central highlands of Kenya – running from the foot of Mt Kenya in the East to the rim of the Rift Valley in the west. Laikipia itself lies outside the jurisdiction of National Parks, and is somewhere to get out of a vehicle and embrace a completely different kind of safari. – here the safari experience is made up of vast open spaces with no people, a variety of activities from riding safaris to quad bike safaris, amazing game viewing and some of the most extraordinary luxury lodges in Africa.
Ol Lentille Sanctuary 
Perched on the flanks of a wooded rock kopje, in the heart of a private conservation area  is a collection of four private, full-service, fully staffed Houses for the discerning few. Situated on the far northern escarpment of the Laikipia Plateau with enormous views to the craggy peak of Mt Kenya, the Samburu sacred mountain Ol Olokwe, the Matthews Range and the Karisia Hills.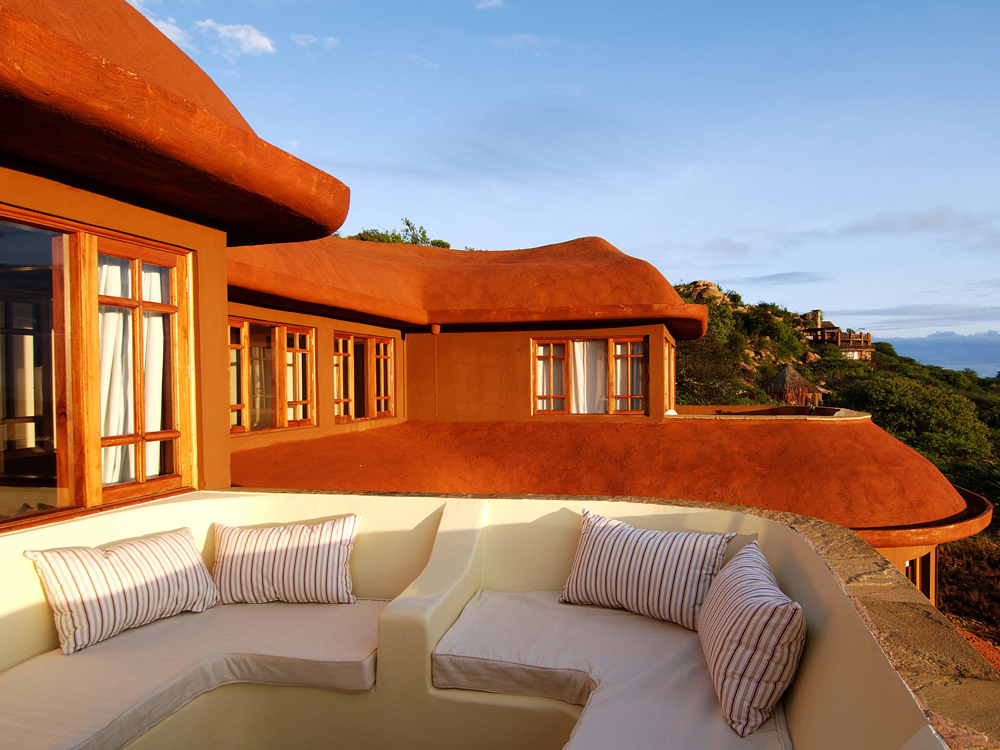 Here you enjoy:
24,000 acre private conservancy.
Each house fully staffed and serviced with Butler, Valet, Guide (and safari vehicle), and Askari
Exceptional food by International Chef
"Horizon" swimming pool
Spa with luxury treatments
Library and viewing deck
Solio  Lodge
Solio Lodge is located on a private wildlife sanctuary, tucked in the valley between the lofty slopes of Mount Kenya and the peaks of the Aberdare Mountains.  This intimate and luxurious lodge opened in remains the only guest accommodation on the incredible 45,000-acre Solio Game Reserve.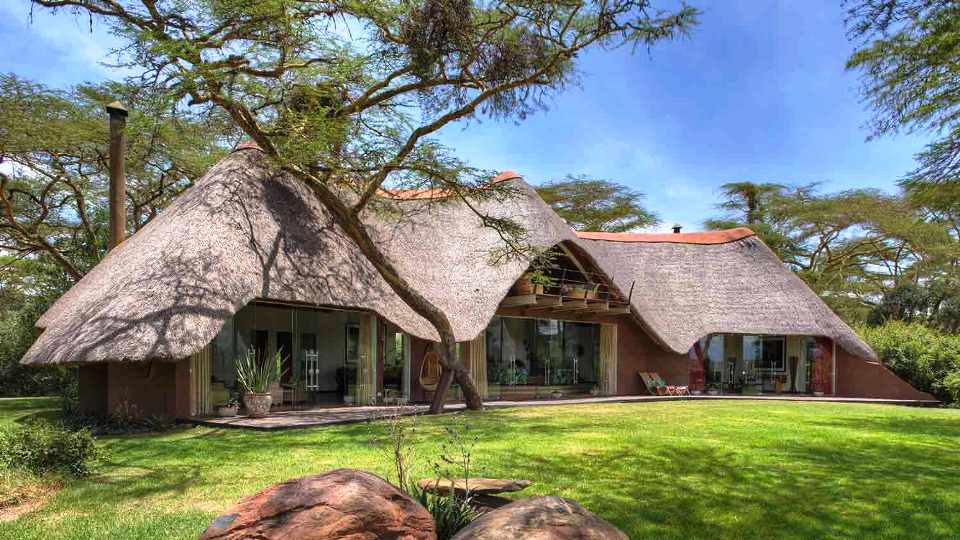 The lodge has five contemporary luxurious cottages; each room has a private lounge area with open fire for cooler evenings, as well as large en-suite bathrooms with a double sink, bath and shower with outdoor sundecks to behold the panoramic views. Enjoy night and day game drives in the vast sanctuary, or take a helicopter to nearby Mount Kenya and for a hilltop picnic breakfast, or go trout fishing in the Aberdare National Park.  
Sosian Ranch
Sosian lodge is a beautifully restored African ranch house that was built in the 1940's by Italian artisans, and accommodates up to fourteen people in the atmosphere of a private home. Four cottages lie in the tropical garden overlooking Mt. Kenya and miles of unspoiled Africa, each with its own private verandah and ensuite bathroom.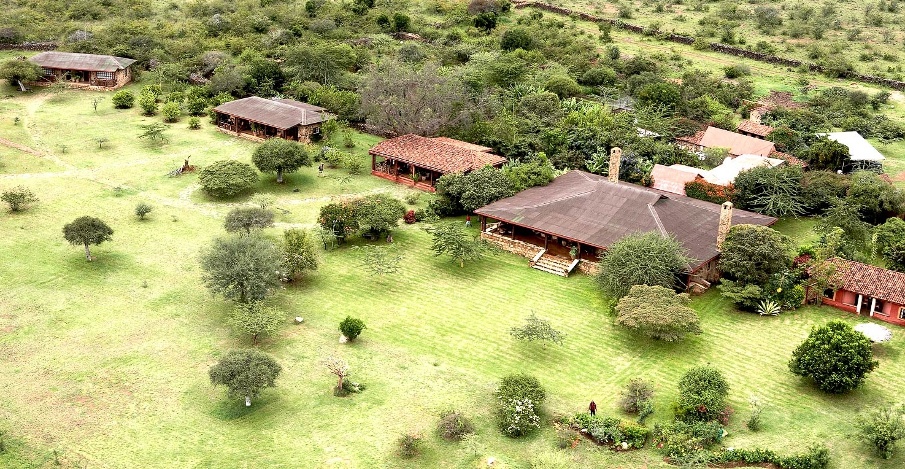 Sosian has horses, day and night game drives, fishing, tennis, wild dog tracking horse-riding, camel safaris, game-drives, night-drives, fishing, archery, tennis and swimming in the waterfalls behind the lodge. Guests are also encouraged to participate in ranch life, such as dipping cattle.
Loisaba Tented Camp
Perched on the edge of an escarpment, Loisaba Tented Camp is designed to capitalize on unhindered views across Laikipia's mottled landscape all the way to Mt Kenya. All accommodations and main areas enjoy a breathtaking vantage point over an expansive panorama. African-themed sophistication and style is the flavour of Loisaba Tented Camp. Spacious and airy tents are custom-built with large floor-to-ceiling doors and windows, high ceilings and polished wood floors. The tent suites are adorned in chic Africana furniture with a modern European twist.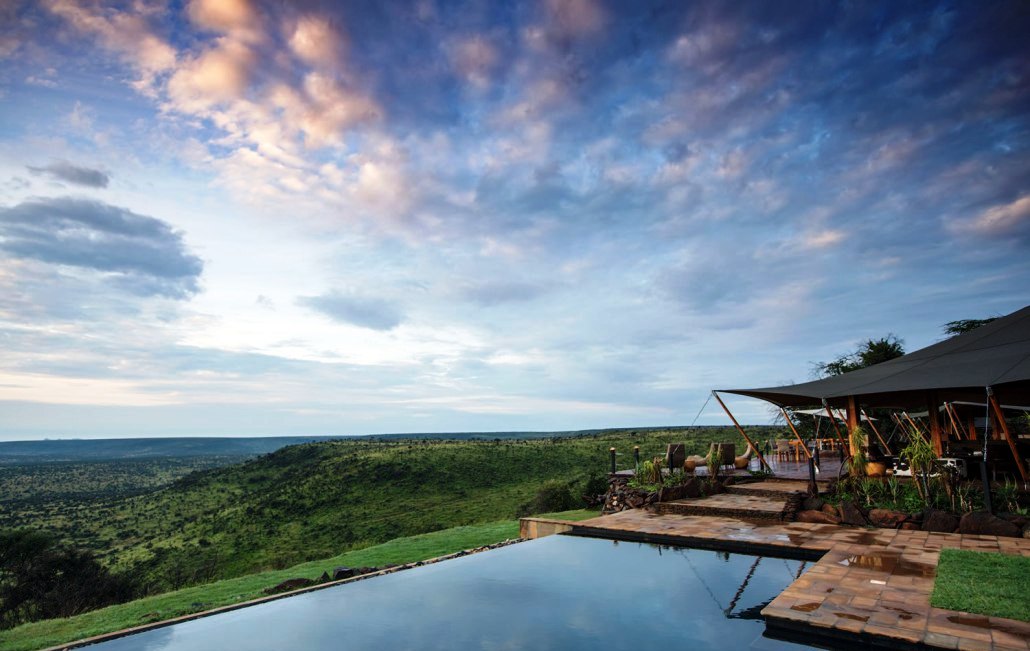 Activities are day and night game drives, horse-riding, camel-trekking, guided bush walks, fishing, mountain biking, cultural visits to Samburu villages and visits to the anti-poaching sniffer dogs.
Sirikoi Lodge
Sirikoi is a family-run (Willie and Sue Roberts), award winning eco lodge surrounded by the haunting beauty of Lewa Wildlife Conservancy on the Northern slopes of Mt Kenya. The two are the life and soul of this amazing camp, which has lovely views of a water hole which is popular with elephant and other species of wildlife. Here you will feel at home in an area that has an abundance of wildlife including endangered species such as black rhino, white rhino and Grevy's zebra.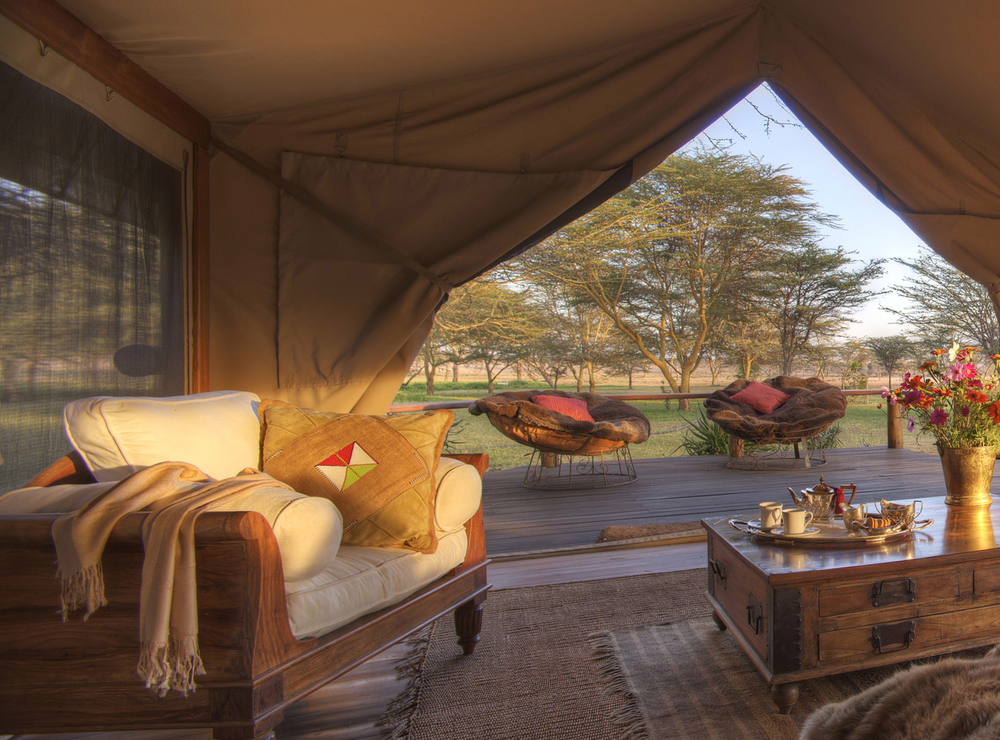 Sirikoi offers fabulous comfort, unmatched wildlife viewing and world class gourmet food in an atmosphere where you feel at one with nature and wildlife. Sirikoi has luxury tents/Cottages with roll top baths, huge showers and private verandahs and an outside deck on which to enjoy morning tea or a sundowner, whilst inside the meticulously designed tent another sitting area invites relaxation.
Enasoit
Enasoit Game Sanctuary is situated on the Laikipia Plateau, at the foot of Mount Kenya. Set within a natural wildlife corridor, Enasoit is a haven for game watching, and welcomes up to 16 guests on an exclusive-hire basis. Guests stay at Enasoit Private Camp, a beautifully appointed luxury camp with 6 double / twin en-suite tented cottages which overlook a busy wildlife watering-hole.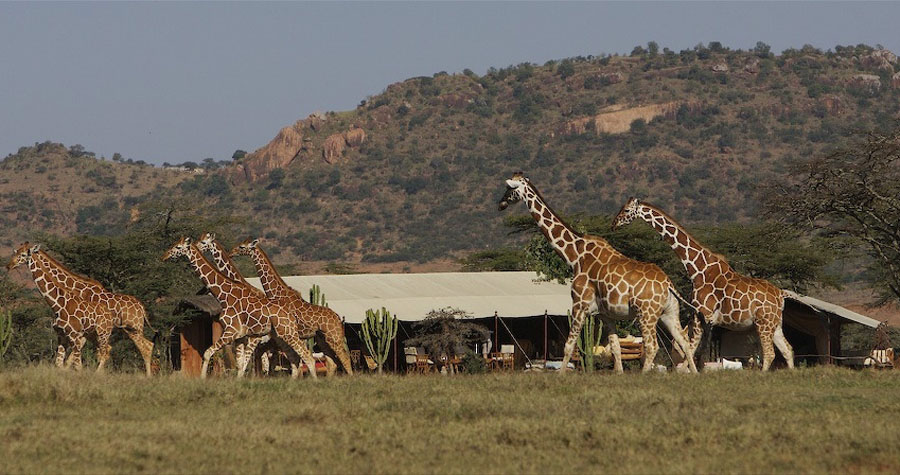 Giraffe, zebra and gazelle graze quietly in front of Camp, elephant and buffalo regularly come to drink, and the bird-life is vibrant. Guests have Enasoit Private Camp and all of the surrounding game sanctuary and wildlife to themselves. They can enjoy the heated swimming pool and thatched Pool House in peace.
Kicheche Camp
An eco-award-winning small luxurious tented camp nestled in the shadows of Mount Kenya in Ol pejeta Conservancy at the foot of an indigenous forest overlooking a waterhole. Six sumptuous tented suites provide the ultimate bush experience for a maximum of twelve guests. The camp's squeaky green safari chic marries beautifully and sensitively with the natural highs of her surrounding incredible wilderness.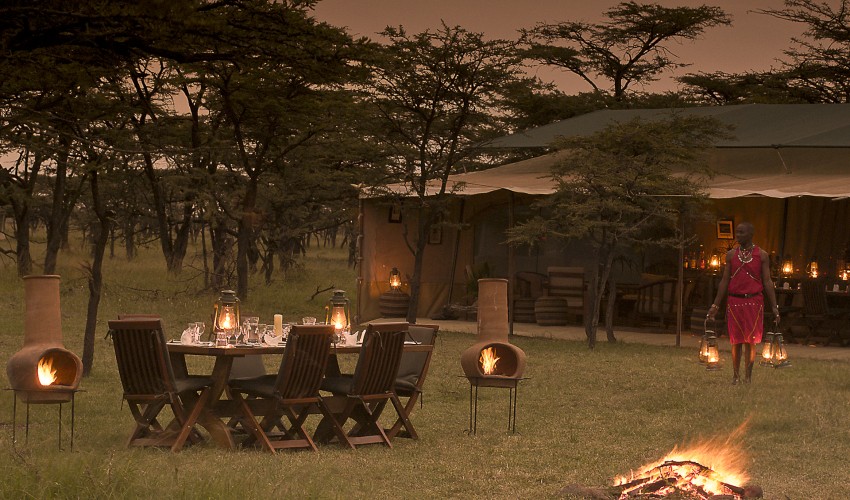 Game viewing is also possible from the comfort of your verandah, overlooking the dam, a magnet for wildlife during the dry season. The spacious well-furnished lounge and dining tent have two roaring fires for the cooler evenings. Breakfast, lunch and dinner are often taken al-fresco and pre-dinner drinks and star gazing are a must under the great African sky.
Tassia Safari Lodge
Tassia is an eco-lodge which specializes in maintaining a minimal footprint on the environment, and encouraging conservation of the wildlife amongst the local tribes people. Tassia is like something out of a dream and is certainly one of Kenya's most unique safari lodges, and certainly one of the most extraordinary Laikipia has to offer.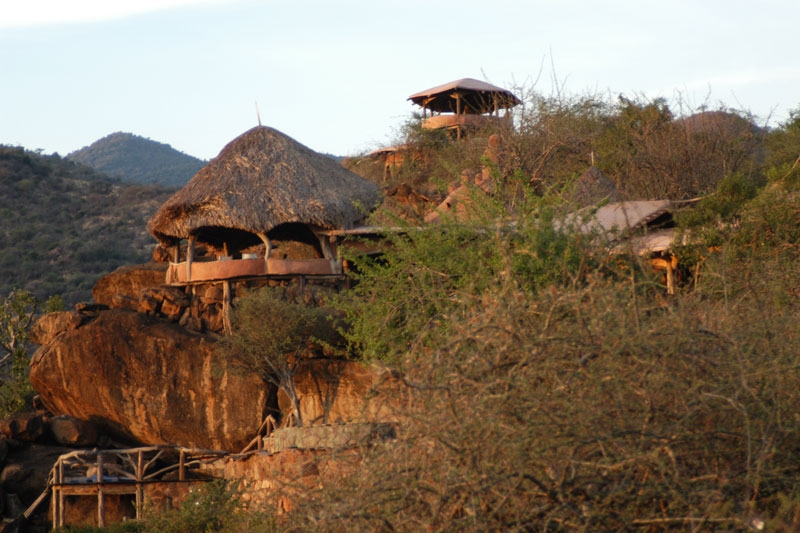 The lodge sits at the same height as birds soar and has vast open views of the bushveld below, which often has elephant and other game species within it. Here every room maximizes the views Bird watching and bird conservation is both easy and vastly enjoyable here, combined with botanical walks, bush walks, and cultural experiences this is a truly traditional safari experience.
Ol Malo Lodge
Situated on the northern edge of the Laikipia plateau, Ol Malo is nestled into a rugged escarpment looking out across the time-honored lands of Kenya's Northern Frontier. Here the emphasis is on culture, riding, walking and having fun with the Ol Malo helicopter, which is now on site full time.  A wonderful way to spend a night whilst on safari at this luxury lodge is to be dropped in the bush by the helicopter, with your own guide either for a walking safari, riding safari or camel safari – you then end up at a romantic and comfortable fly camp for one or two nights before walking home to the comfort of this luxury lodge.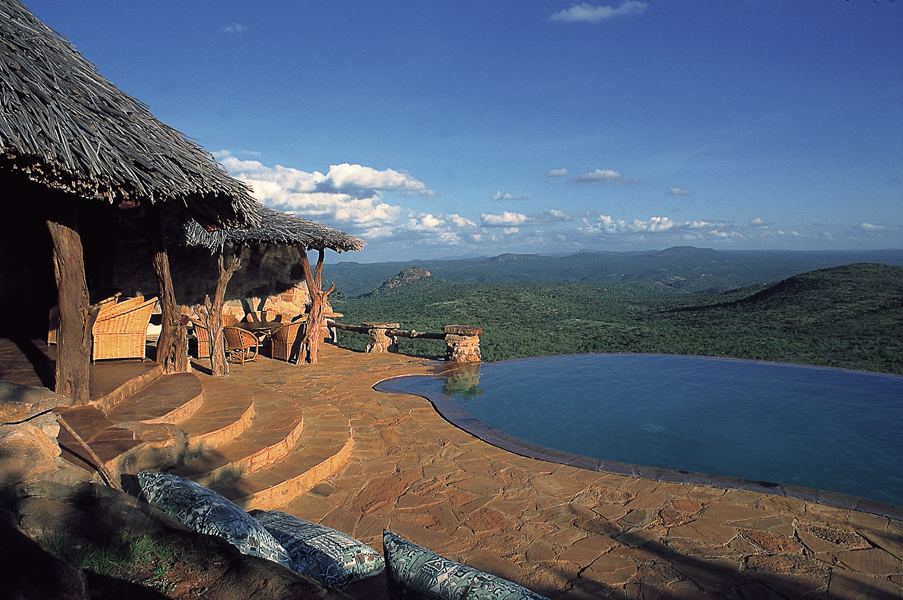 The Loisaba Starbeds
Unique to Loisaba, the Starbeds are handcrafted four-poster beds which sit on wheels, are rolled out onto raised wooden platforms so that guests can sleep under the endless African night sky. With beautiful brass fittings, the bathrooms allow you to keep your eye on the beautiful dam. The main communal area at the Starbeds offers a cosy and homely dining room, sitting room and a wooden deck – which is the perfect spot for a sunny breakfast. Guided and hosted by a team of traditional Samburu and Laikipia Maasai Warriors this cultural experience will most definitely be a memorable one. The Loisaba Starbeds are located among a kopje of rocks in one of the Eastern Valleys, overlooking the Kiboko Watehole. Home to a resident hippo family, and a main water source for passing game, the Starbeds bring you close to nature.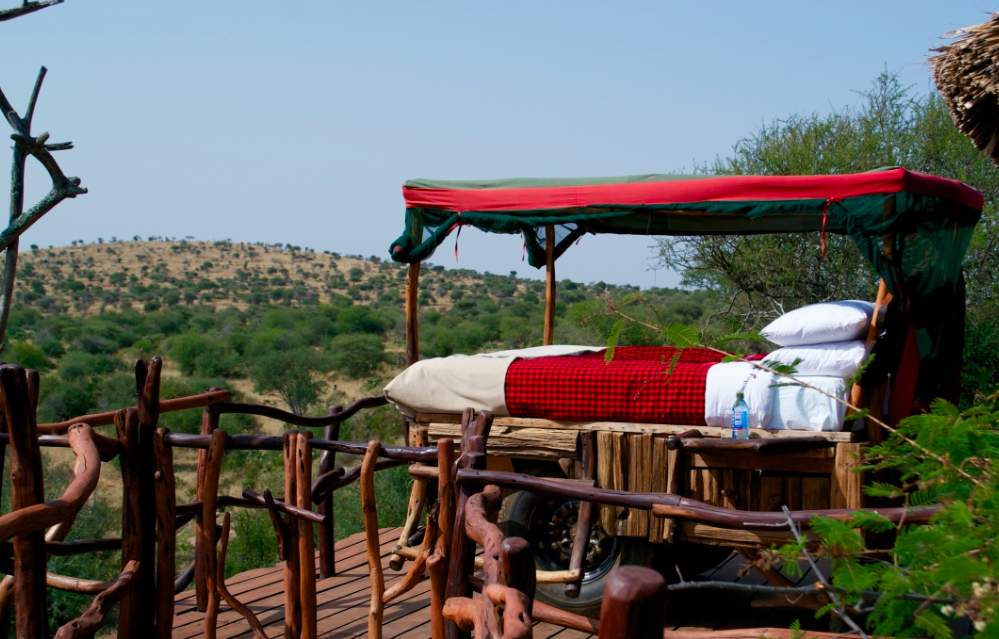 Sabuk Lodge
Sabuk has eight cottages constructed from wood and local stone from the surrounding area. All the cottages has ensuit bathrooms with a flush toilet hot and cold shower and a deep stone bath with amazing views. This quirky and unique lodge offers the most heavenly walking safaris, and a stay in somewhere which feels truly African. Here you will be regaled with tall tales about the family who own it over dinner, and will spend heavenly days feeling like you truly are at the ends of the earth.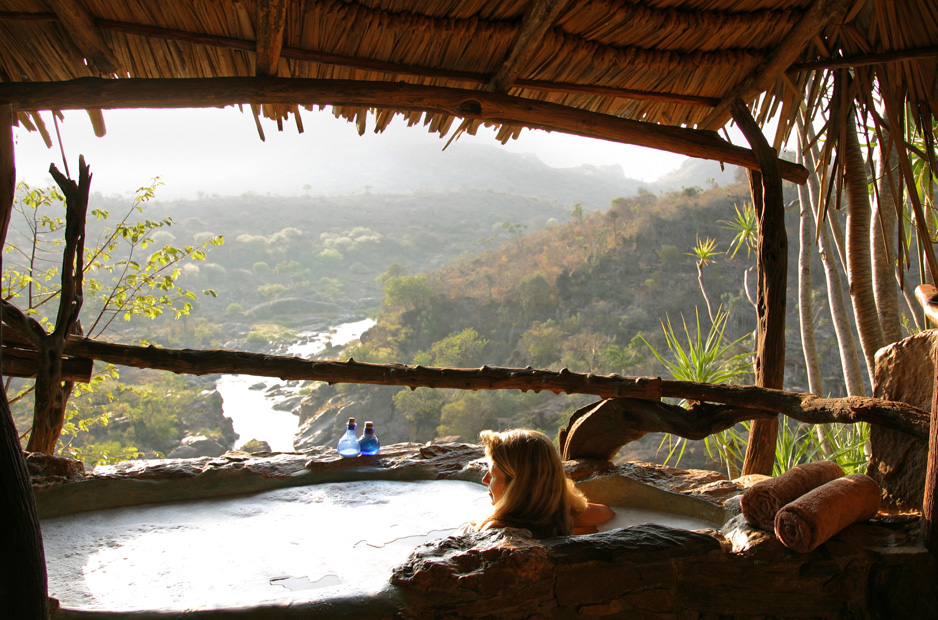 Lewa Wilderness
Lewa Wilderness is located on Lewa Wildlife Conservancy. The lodge has nine exclusive rooms: six thatched cottages tucked into the hillside overlooking Lewa's Eastern Marania Valley, and three thatched garden cottages set in the beautiful green lawns.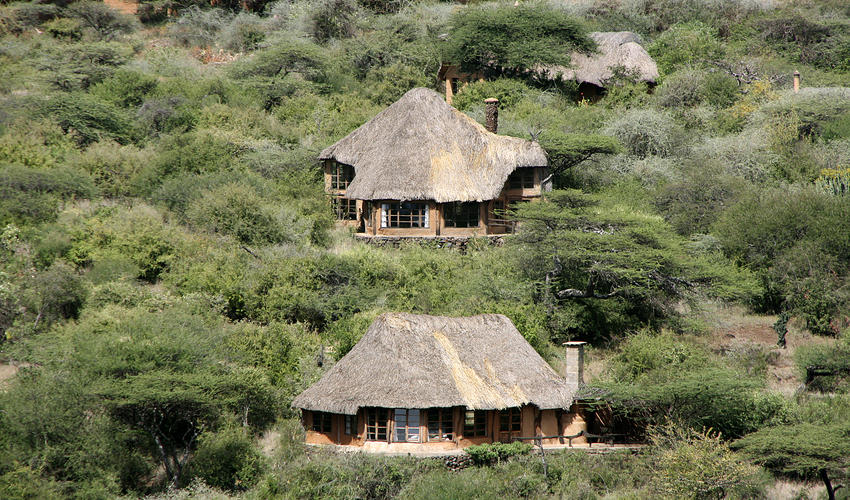 Each cottage is tastefully decorated with some of the Craig's own antique and handmade furniture, giving each rustic charm and the character of a ranch homestead. Game viewing from here is also exceptional and the comfy and inviting sitting room is the ideal place to relax.
Segera Retreat
Nestled between glorious Mount Kenya to the east and the Great Rift Valley to the west, a stunningly diverse and seemingly magical environment, Segera's golden savannah plains, rocky waterfalls and tropical botanical gardens offer a peerless and exquisite venue for the perfect romantic escape or family holiday. Segera is a treasured haven for Kenya's most celebrated wildlife species, where a holistic approach to wellness ensures a revitalizing and authentic safari experience from the moment you arrive. It's an exclusive destination for fun, adventure, spiritual reflection and peace, where absolute luxury, bespoke service and generous all-inclusive offerings combine to give you exceptional privacy in your wild Kenyan home away from home.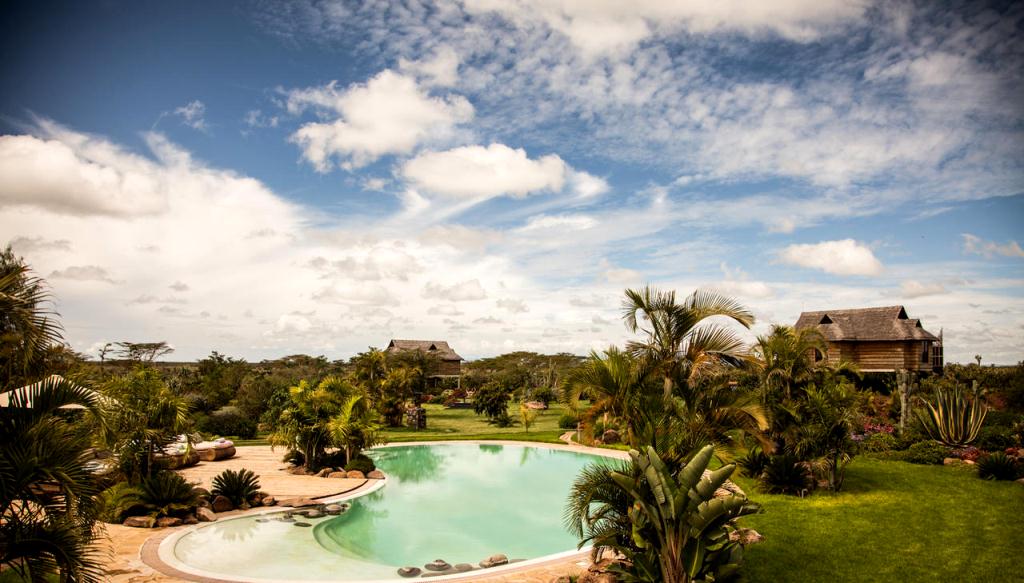 IL Ngwesi Lodge
This community-run lodge looks out over the vast landscape of Kenya's Northern Frontier District – over unspoiled land where only sun & moonlight reign and only the chorus of African bush is heard both day and night.
Il Ngwesi Lodge offers six beautiful en-suite banda rooms sleeping a maximum of 17 with an extra staff bedroom if required. The rooms are open sided to provide panoramic view.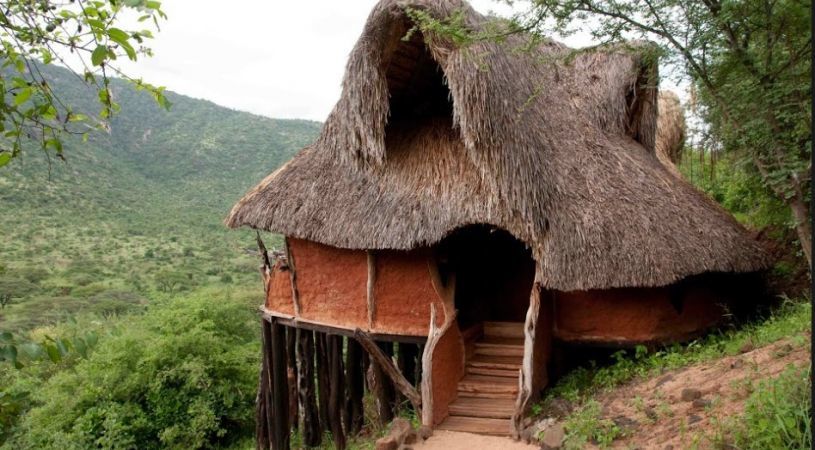 The bandas offer unforgettable view of the vast surrounding landscape and incomparable  comfort, while relaxing at the horizon pool, guests watch wildlife come to drink at a popular water spring. The solar-powered eco-lodge has been built by the local community using local materials, and directly benefits the Laipikiak Maasai who live in harmony with this precious land.
The guests get a real taste of the African wilderness while enjoying luxury and our superb service.
Enjoy this and more with the experts….
Contact us on offers or Connect with us on Social Media for more information.
Email: marketing@silverbirdtravel.com
Call us on (+254) 737 991981 / 733 203050  Holiday Packages
Visit our WEBSITE  for more offers